Access over 150,000 verified staffing leads!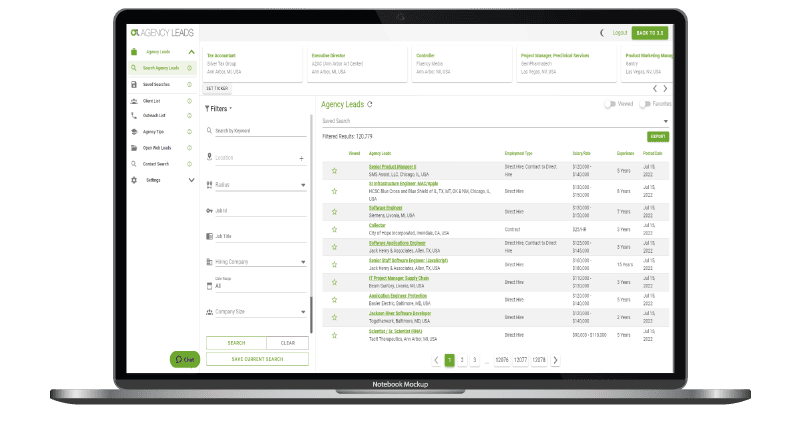 Agency Leads is the fastest way to find verified leads with companies that use agencies for their hiring.
  Over 100,000 verified leads!*
  Hiring manager contact info
  Outreach tracking & management
  New lead notifications
  Live support
  New leads updated daily

See how Agency Leads can increase sales and save you time.
Request your 20 free leads now!

What Agency Leads Users are Saying!
Agency Leads is awesome. I've used quite a few different lead gen tools and I'm more impressed with AL than the others...
This is one of the most robust pieces of software I have ever used. In 14 years of business... It is the BEST Business Development tool I have seen in the market...
As a customer of Agency Leads, I can confidently say that this product has been a complete game changer for my sales career...
I have made Agency Leads a part of our every day process with our sales team and we have yielded great success. Highly recommend.
Lead Generation for Recruiters & Staffing Agencies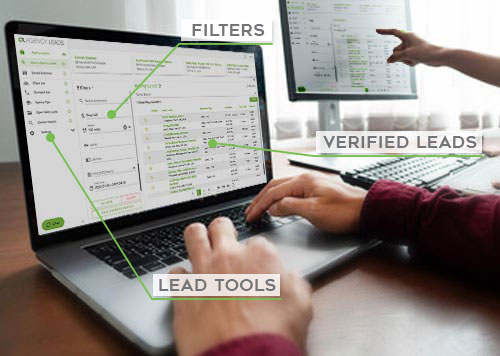 Verified leads at your fingertips
Get immediate access to over 150,000 verified agency leads. We do the research for you! Our powerful A.I. lead generating tool pulls in new leads every day that are reviewed and verified for accuracy.
Agency Leads has an easy to use interface that enables you to quickly search, filter and sort through thousands of active leads. You can manage and track your leads right in the system or export to your current CRM for easy integration into your current workflow.
*What is a "verified" lead?
We do the research for you! The Agency Leads platform automatically imports the newest leads every day. We then confirm the accuracy of the job listing and, most importantly, we verify that the hiring company uses staffing agencies and recruiters (like you!) for their hiring needs!
Extensive & Accurate Job Details
Agency Leads gathers, verifies and displays accurate job details. See the full company details, job posting date(s), requirements, salary, complete job details, and more!
We save you countless hour of research and provide you with connections to companies that use agencies for their hiring so you can focus more on what makes you money!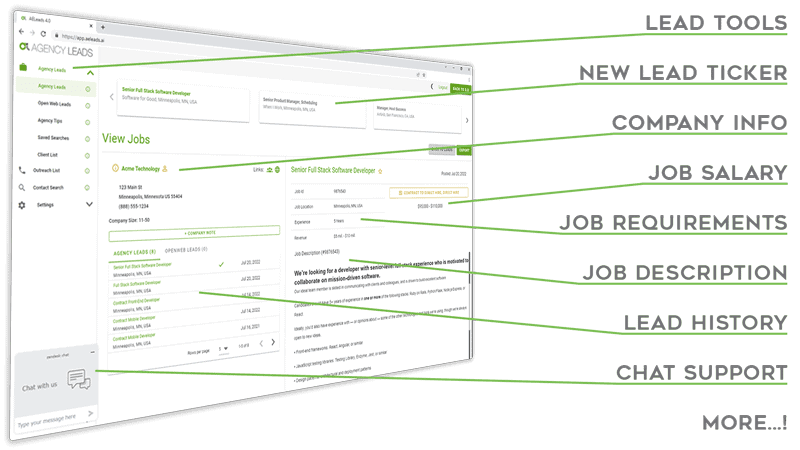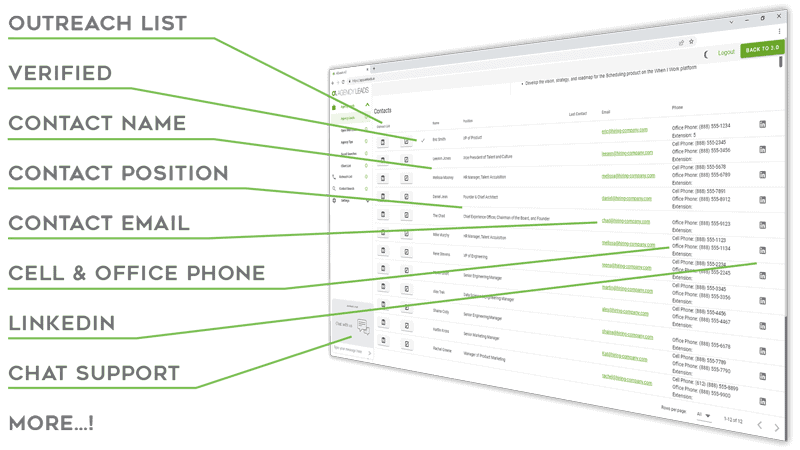 Company Contacts & Hiring Manager
Get access to the right people! With every job posting lead you also have access to a directory of top-level personnel contact information. A check mark will appear next to the job hiring manager.
Agency Leads is an essential tool for staffing firm lead generation. Reduce time spent on lead research and give your staffing agency and recruiters the sales lead generation tool that will increase sales. If you're looking for recruitment leads,  Agency Leads provides unlimited sales leads updated daily, new lead notifications and an easy to use management interface. Agency Leads is the lead generation tool that gives you the competitive edge over your competition!
Agency Leads | Demo Video
Get Quality Leads Now!
See how Agency Leads can save you time, get you clients and boost sales. Request more information and get 20 leads for free, no obligation!