Agency Leads & Open Web Leads
Subscribe now for full access to both Agency Leads and Open Web Leads.  Agency Leads is our premium service with over 100k job leads from companies that use staffing agencies for their hiring needs! Open Web Leads contains over 1 million automatically updated job postings with company and contact info!
Not quite ready for premium Agency Leads access? Subscribe to our Open Web Leads application. Open Web Leads is a powerful job board aggregator with over 1 million job postings updated daily with new leads, company and contact info!
Want a free 7-day trial of Open Web Leads.
Call us at (623) 263-0990
Popular
Open Web Leads
Get instant access to over 1 million job leads!
Over 1,000,000 job postings database
New job listings updated daily
Job info & description
Hiring company info
Company contact info
Job search, filter and export
Get Open Web Leads NOW!
The modern world is in a continuous movement and people
everywhere are looking for quick, safe and successful means of accessing accurate information.
---
Included Features
SEO
All the social media content that we create is authentic to deliver the best results.
Data Security
We would then identify what your customers are saying, where they are saying.
Competitor Research
Every Marketing WordPress Theme strategy that we take will increase.
24/7 Communication
It is seen that great content gets shared much more than the ones that are just plain simple.
Marketing
Every Marketing WordPress Theme strategy that we take will increase.
Content Prioritization
it is important for all modern companies to create a social landscape and deliver.
Contact us now for more info and demo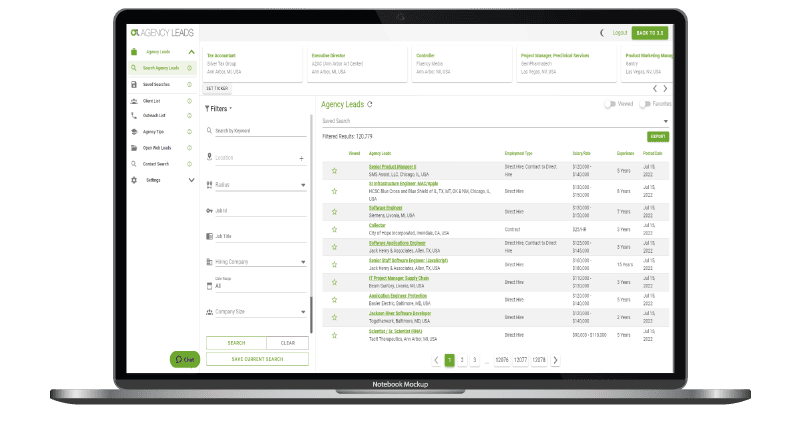 Want to see how Agency Leads can save you valuable time and increase sales? Contact us now for a one-on-one demonstration of the Agency Leads platform.

  Over 100,000 verified leads
  Hiring manager contact info
  Outreach tracking & management
  New lead notifications
  Live support
  New leads updated daily

Frequently Asked Questions
Have a Question?
Contact us now at (623) 263-0991 for support or a demo.
or
Reach out to our    Lead Genius Team. We're here to help!