Recruitment Leads Updated Daily!
Get recruiter job leads from companies that activly use recruiters and staffing agencies for their hiring delivered right to your computer or device daily! Access over 100k active leads, job details and hiring manager contact info!
Lead Generation
A constant leads source of companies that currently use have used agencies in the past.
Contact Research
Database of relevant company contacts, emails, social profiles and direct phone numbers.
Sourcing Platform
Advanced search & filtering, lead sourcing, organization, contact & outreach management.
Integrations
Export leads, integrate and connect Agency Leads with your CRM.
Get More Leads in Less Time!
We do the lead research for you - The Agency Leads system generates qualified leads and connects you to companies that use recruiters for their hiring, provides full company details, complete job requirements, and the hiring manager contact information, all on one page.
Get fresh leads daily
New lead device notifications
Access over 100K existing leads
Company & job listing details
Hiring manager contact info
Manage & export your leads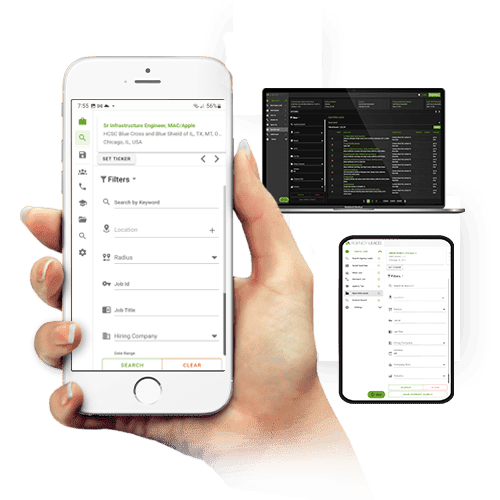 How does Agency Leads work?
Built by experienced ​recruiting ​professionals, firstly Agency Leads gives you the inside scoop into your competitors' playbooks. Secondly we provide the lead details, contact information and send you the leads you need to close — all at a fraction of overall time and cost it normally takes.
Learn More about Agency Leads
We Are Your Lead Research Team
Spend Less Time Finding Leads and More Time Makeing Sales - Agency Leads ​saves you valuable time and money by researching and finding quality recruiter job leads for you. Indeed we provide accurate, qualified staffing industry leads for sales and account executives ​across any industry, all in one user-friendly platform. This leaves you more time to do what you do best, making sales and making more money!
1. We Do The Research
We source leads from companies that use recruiters and stagging agencies for their hiring. We verify the accuracy of every job lead and the company contact information, providing you with leads and data you can count on.
---
2. We Organize Your Outreach
Assembling lead data is only the beginning of the process. We provide the platform to search, filter and manage outbound connections, as a result, helping you organize and manage your outreach.
---
3. We Support Your Growth
We provide the tools, coaching and support needed to research call lists, so you can focus on the most important part of your business: working to connect hiring managers and candidates.
Sign up for more Agency Leads info and updates: