Lead Generation Recruitment Companies: What You Need to Know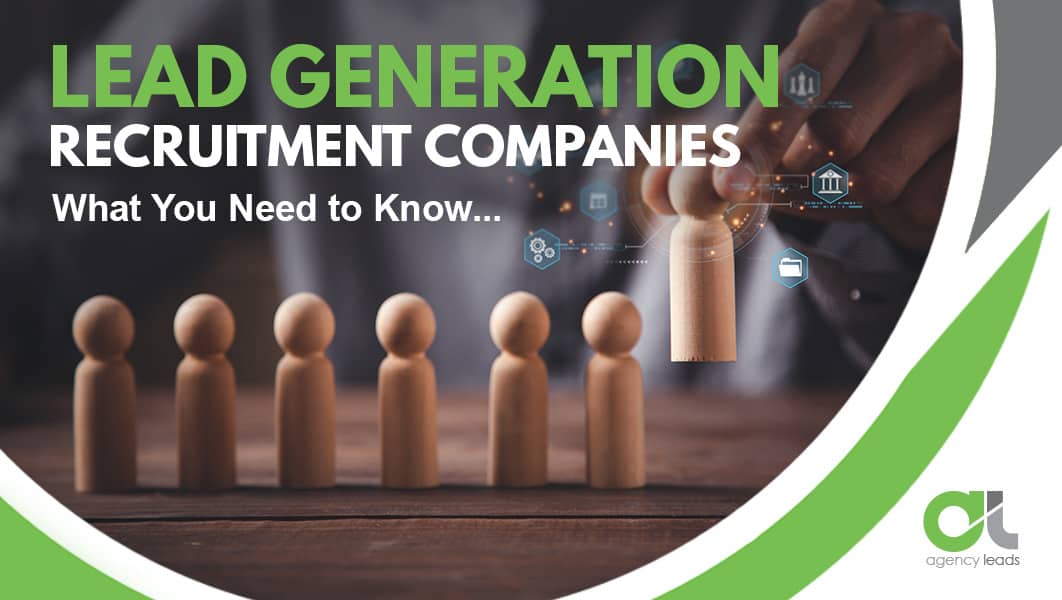 What is a Lead Generation Recruitment Company?
Lead generation recruitment agencies specialize in sourcing, assessing, and ultimately placing candidates specifically for lead generation positions. These companies possess in-depth knowledge of the lead generation industry, its challenges, and the skills required to succeed in such roles. Leveraging their expertise, they are adept at identifying candidates who possess the essential qualities to excel in this highly specialized field.
What You Need to Know
Lead generation recruitment companies have become increasingly popular in recent years, as businesses look for support in finding qualified candidates for their vacant positions. It's important to know that while these companies may provide benefits, there's also potential disadvantages as well. Understanding both the benefits and drawbacks can help businesses make an informed decision about whether or not to work with a lead generation recruitment company.
Advantages
Time & Resource Saver: First and foremost, working with a lead generation recruitment company can save you valuable time and resources. Hiring can be a time-consuming process that requires a substantial investment of both manpower and money. By outsourcing this task to a specialized recruitment agency, you can focus on other essential aspects of your business while leaving the recruitment process in the hands of experts. These companies have extensive networks, databases, and tools for sourcing potential candidates, enabling them to streamline the hiring process and deliver qualified candidates to your doorstep.
Large Pool of Talent: Another significant advantage of collaborating with a lead generation recruitment company is their ability to access a wider talent pool. These agencies have well-established relationships with both active and passive job seekers. They constantly engage with potential candidates, build talent pipelines, and maintain databases of qualified individuals who may not be actively searching for job opportunities. This allows you to tap into a broader range of talent, including those who might not be actively looking for a new job but could be interested in an enticing offer.
Expertise: Furthermore, lead generation recruitment companies often have expertise in specific industries or sectors. Whether you are in technology, finance, healthcare, or any other field, these agencies possess the knowledge, experience, and connections required to understand your industry's specific workforce needs. This specialized knowledge can ensure that the candidates presented to you are not only qualified but also fit the culture and requirements of your organization.
Quality Leads: In addition to the wider talent pool and industry expertise, lead generation recruitment agencies can also help improve the quality of your hires. Through rigorous screening, assessments, and interviews, these agencies can identify the most suitable candidates for your organization. They have access to advanced screening tools and methodologies that can screen and shortlist candidates efficiently. This means that when candidates are presented to you, you can be confident that they have already gone through a robust evaluation process.
Also check out this article: What to Look for in a Recruitment Agency
Disadvantages
Lack of Control: One of the main disadvantages of working with these companies is the lack of control over the recruitment process. By outsourcing the sourcing and screening of candidates to a third-party, businesses essentially give up the ability to directly oversee and manage this important aspect of their operations. This loss of control can be concerning, as it may result in a misalignment between the company's hiring goals and the candidates presented by the lead generation recruitment company.
Can be Costly: Additionally, the cost associated with working with lead generation recruitment companies can be a disadvantage. Most of these companies charge a hefty fee based on a percentage of the candidate's salary or a fixed amount per hire. For small or medium-sized businesses with limited budgets, these costs can quickly accumulate and strain the financial resources.
Reputation Damage: Moreover, there may be a lack of transparency and trustworthiness in the operations of some lead generation recruitment companies. It is essential for businesses to thoroughly research and carefully select a reputable and reliable provider. As these companies are responsible for representing the business and finding suitable candidates, any misrepresentation or dishonesty can have significant negative consequences on the company's reputation.
Top Lead Generation Recruitment Agencies
Here is a list of some of the top lead generation recruitment companies:
Please note that this list is not comprehensive, and there are many other reputable recruitment companies that offer lead generation services. It's always advisable to research and evaluate each company based on your specific needs and requirements.
Conclusion
In conclusion, lead generation recruitment companies play a crucial role in helping businesses find and acquire high-quality leads. These companies specialize in various techniques and strategies to attract potential customers and convert them into qualified leads. By utilizing their expertise and industry knowledge, businesses can save time and resources while increasing their chances of finding the right customers for their products or services.
When choosing a lead generation recruitment company, it's important to consider factors such as their experience, track record, and the specific industry they specialize in. Companies should also evaluate the strategies and tactics employed by the recruitment company to ensure they align with their business goals and target audience.
While outsourcing lead generation can bring numerous benefits, it's essential for businesses to maintain open communication and collaboration with the recruitment company to ensure a smooth and successful lead generation process. By regularly reviewing and analyzing the performance of the lead generation efforts, businesses can make necessary adjustments and improvements to optimize their results.
Overall, lead generation recruitment companies provide a valuable service for businesses looking to expand their customer base and increase their revenue. By leveraging their expertise and resources, businesses can focus on their core operations while leaving the task of lead generation to professionals. With the right lead generation recruitment company as a partner, businesses can expect to see significant growth and success in their customer acquisition efforts.