Why recruiters are crucial for your business
External recruiters are one of the best ways to find the ideal employees for your business. Learn what it entails and how you may improve your hiring procedures.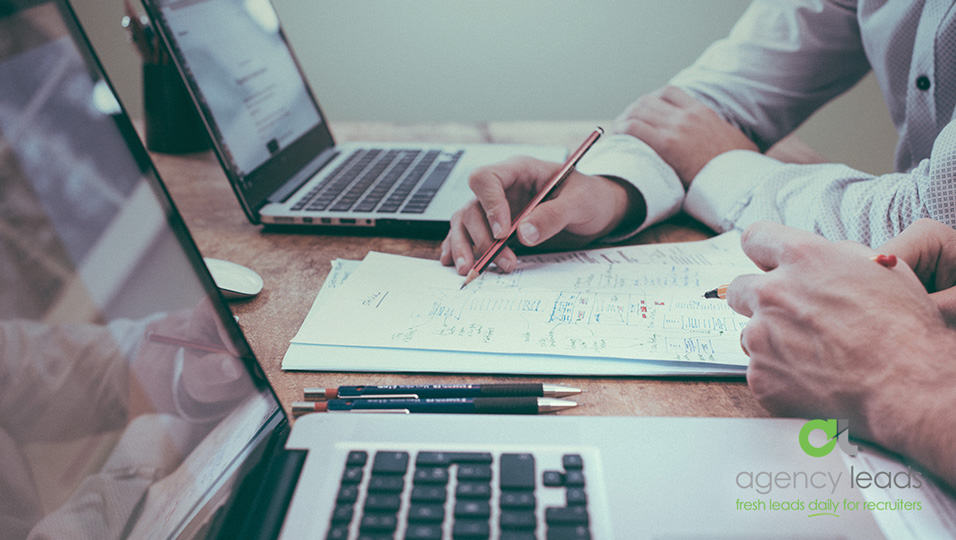 Having a capable, driven, and dedicated team is one of the cornerstones to a company's success. However, how can you identify the best candidates for each position? How can you be sure they match the organization's profile, culture, and values? This is when the recruiters—or the organizations in charge of handling the hiring procedure for each position—come into the picture.
Additionally, they lower risk and job turnover while giving you access to a wider range and higher amount of talent. Even employee loyalty and satisfaction can be increased. In this post, we'll discuss what recruiters are, how to choose them, their benefits, and the difficulties they currently face. We will also discuss Agency Leads, a platform that offers numerous services for both employer businesses and recruitment agencies.
What are recruiters?
Professional consultancies known as personnel recruiters are in charge of conducting the process of choosing the best applicants for a company. Their job is to find and attract potential candidates while also analyzing the needs and criteria of each position. With this, you can assess the talents and abilities and select the ideal profile for the company.
Statistical information or actual instances of recruiter significance includes a Cazvid study wherein 83% of talent experts believed that talent is an organizations' top priority. Also a Forbes article claims that businesses can boost productivity by up to 40% by investing in a strong selection of employees.
As you can see, these kinds of agencies are necessary for a firm to succeed. The cause? They are in charge of assembling a skilled, driven, and devoted team that will help the company expand.
How do I pick a reputable recruitment agency?
Selecting a competent recruiter might be challenging. The efficacy and quality of this service are influenced by a number of factors. Here are some guidelines for doing it securely:
Experience. The career path of the recruiter in the recruiting industry must be strong and observable. You'll feel secure and assured that you are well informed about the current labor market, best trends, methods, and tools for every circumstance as a result.
Approach. The agency must make explicit and open the steps it will take to conduct the selection process. Additionally, what procedures, tests, standards, and reports it will provide are included.
Reputation. Look for reviews and testimonials from past clients who have used the services of the agencies you want to use. You will be able to determine their level of satisfaction, the outcomes, the type of care they received, and the quality-price ratio in this way.
Expertise. Check to see if the agency has experience in the industry or field in which your business operates. Or at the very least have experience in roles that are comparable to the one you wish to fill.
Guarantee. A formal guarantee of their work is simple for the recruiter to provide. This comes into play if the chosen candidate falls short of expectations or quits their job before a set amount of time has passed.
Cost. Price should be considered, but it shouldn't be the only or the deciding consideration. Finding a fair value for your money while taking into account the added benefits provided by the recruiter is significant.
What benefits may you get from working with a recruitment agency?
Employing a staff recruiter may be a very smart move for your business in that it provides you with a number of benefits that might boost your market competitiveness and human talent management. Several of these benefits include:
Saving resources and time. You can save time and money by giving the selection process to an outside recruitment agency rather than spending it on searching, screening, interviewing, and evaluating applicants. You also make certain that the procedure is completed swiftly and effectively, without interfering with your regular activities.
Improved performance and quality. Recruiters provide you with their market expertise, their search range, their access to applicants, and network of contacts. This makes it possible to identify the person with the best profile for each opening, one who is qualified and has the abilities needed to carry out their job effectively.
Decreased turnover risk. You get to see if the chosen applicant adheres to your company's culture and values in addition to the technical requirements. By doing this, you lower the possibility that the candidate won't fit into the role or the company, which lowers labor turnover and its associated expenses.
Loyalty and satisfaction. Additionally, you help to increase the loyalty and contentment of your present and upcoming employees. On the one hand, you demonstrate to them your concern for their professional advancement and provide them with prospects for advancement. On the other hand, you facilitate their coexistence and integration with their new coworkers, fostering a supportive and inspiring work atmosphere.
As you can see, both in the short and long terms, hiring recruiters has several benefits for your business.
What difficulties do recruiters currently face?
For recruiters, the current environment poses a number of difficulties. They must unquestionably adjust to the demands and changes in the work market. Some of these difficulties include:
Digitization. The epidemic has sped up business digital transformation. Work models, communication, and talent management have changed as a result. Recruiters must innovate the methods and technologies they use to find, assess, and choose prospects. They must, above all, benefit from the advantages that technology, such as artificial intelligence and data-driven technologies, offers.
Staff dissatisfaction. Recruiters should endeavor to entice and keep people by providing desirable working conditions, growth possibilities, and a positive work environment.
Globalization. Because of globalization and increased competition in the labor market, businesses must hunt for the best workers worldwide. In order to account for potential cultural, legal, and linguistic barriers between candidates and the organization, recruiters must expand the scope of their search.
These are some of the difficulties that recruiters are currently facing. To do their work effectively and competently, it is crucial that they receive ongoing training and updates.
Agency Leads: Technology-based approaches for employment agencies
If you work for an employment organization or recruiting agency, you are well aware of the time and money needed to do in-depth research, identify and get in touch with possible applicants, and manage follow-up with them. For this reason, you may benefit greatly from an innovative solution that makes your task easier and more efficient so that you can concentrate more on making sales and bringing in money, which is what actually counts.
This remedy is known as Agency Leads, a platform for generating leads for recruiters and recruitment agencies. The tool provides you with the following benefits:
Verified leads. Agency Leads offers you verified leads from businesses who hire through recruiters and employment agencies. To maintain their accuracy and relevancy, these leads are reviewed and updated on a daily basis.
Daily job updates. The platform provides you with comprehensive information on job listings made by recruiting firms, including the qualifications, pay, date of posting, location, and field. By doing this, you may find the jobs that are best suited for your recruiter or agency.
Information about how to reach the recruiting manager. You can get the hiring manager's contact details through Agency Leads. Additionally, it provides you with details about the individuals behind each job offer.
CRM integration. You can export and manage your leads from a single platform thanks to the tool's integration with your CRM. Additionally, you will be able to assess the effectiveness of your sales initiatives and adjust your business plan.
Conclusion
In this post, we've learned what recruiters are, how to choose them, their benefits, and the difficulties they currently face. However, as we have seen, they are responsible for carrying out the hiring process and choosing the best individuals. Additionally, we highlighted the Agency Leads platform as a cutting-edge choice that distinguishes itself from other solutions thanks to its authentic lead creation, up-to-date jobs, and true information from corporate recruiters.