How to find the right hiring managers
How to find the right hiring managers, contact info and increase staffing contracts using Agency Leads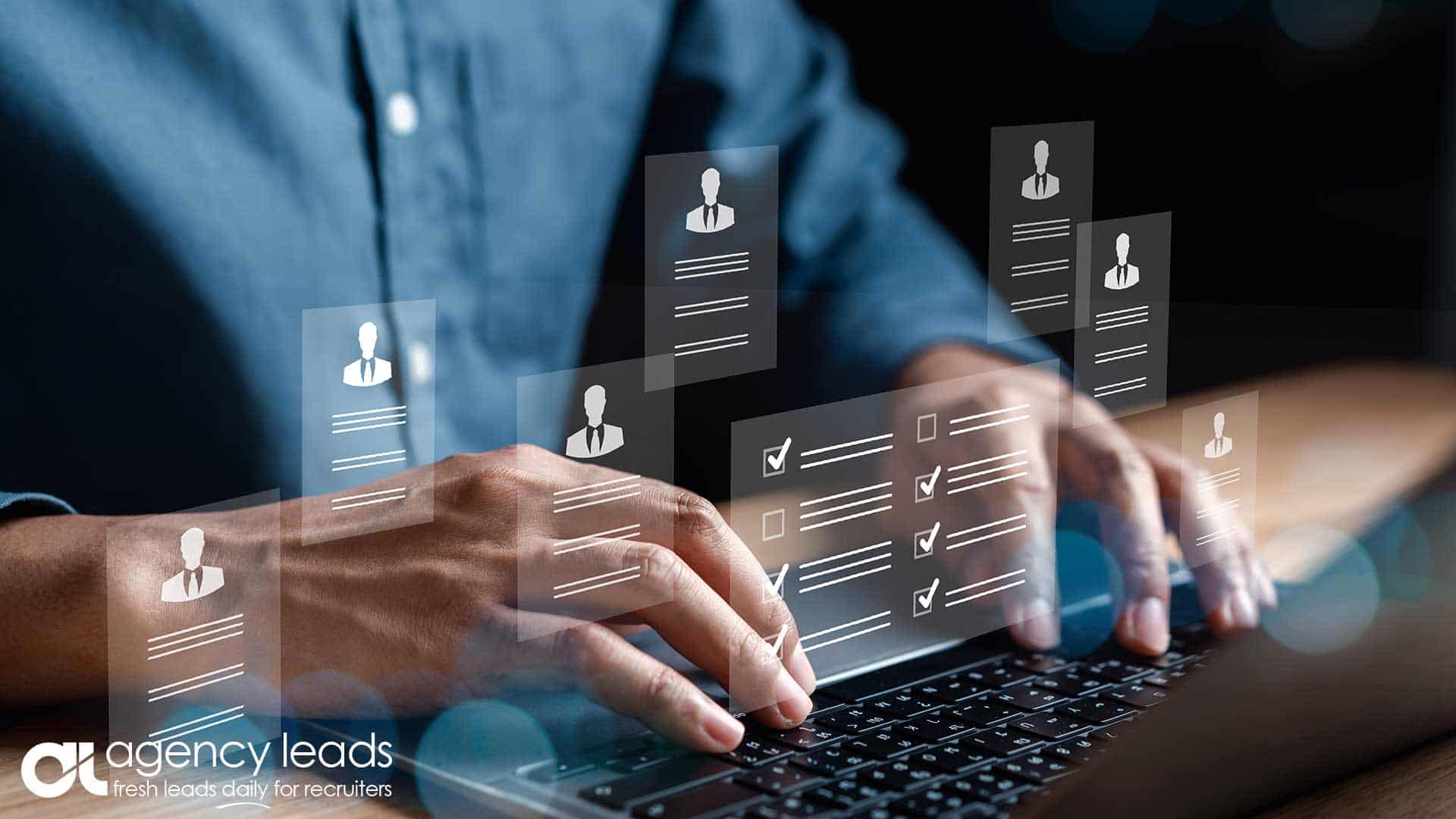 As a recruiter or staffing agency, you know how to get hiring managers to use your service. The challenge is how to find the right hiring managers! You find the job leads, you research the contact info for the hiring manager, but how do you know if they need you or if they even use staffing services? What would you think if we told you that there is a service that not only offers you quality leads, but that these leads have already been verified to be buyers of the staffing services you offer? Furthermore, how would pre-qualified leads increase your efficiency, sales and profitability? We have the solution: Agency Leads.
Agency Leads: the ideal solution to find the right hiring managers
Agency Leads is a revolutionary tool that allows you to generate qualified leads, automate your follow-up efforts, personalize communications and measure the results of your prospecting campaigns. And with Agency Leads you will be able to contact the right hiring managers, establish a relationship of trust and close more contracts than ever before.
All recruitment agencies, professional recruiters, or employment agencies can find leads through different means. But what sets Agency Leads apart from its competitors is that it not only offers the opportunity to recruit large numbers of hiring managers, but these managers in turn only work with recruiting agencies, professional recruiters or employment agencies.
Our Agency Leads tool places your boat in the right school of fish. That is to say: with Agency-Leads you will only catch the type of fish that interest you, the most beneficial, and those qualified to increase sales and close contracts.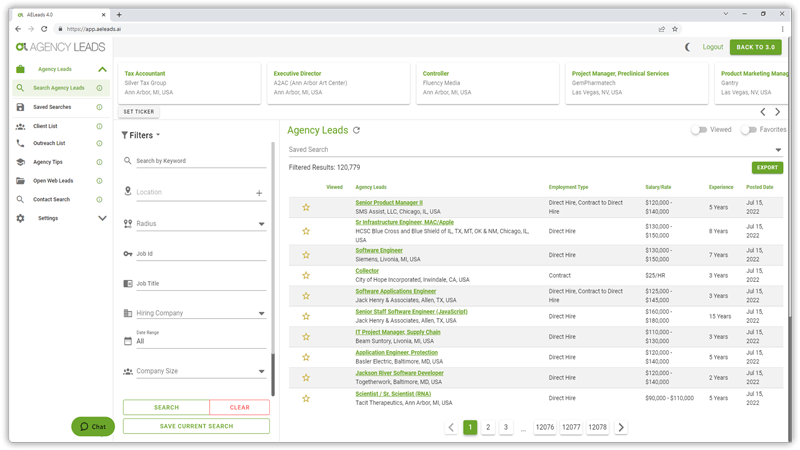 How Agency Leads works to find verified hiring managers
One of the main advantages of Agency Leads is that it allows you to access an updated and high quality database of potential clients and business opportunities. What's more, Agency Leads provides you with daily, updated and verified leads from companies that need and use recruitment agencies to search for human talent.
How do we do it? First, Agency Leads uses intelligent technology that procures, researches and analyzes thousands of online sources daily to identify companies that are looking for candidates to fill their vacancies. Second, Agency Leads then uses a full-time team of "lead geniuses" that manually reviews and checks the contact information of hiring managers to determine which ones use recruiting agencies to fill their job openings. Lastly, it places all these verified leads right at your fingertips!
We save you time and money by searching and validating leads for you so you can focus on what really matters: contacting the right hiring managers, offering them your services and closing contracts. With Agency-Leads you will have access to a reliable and updated source of potential clients and business opportunities that no other tool can offer!
Agency Leads solutions to get more contracts with hiring managers
Now that you know how Agency Leads works and how it can help you find verified hiring managers, we are going to show you how you can use Agency Leads to increase your leads, deals and profitability. For this, the company offers several solutions:
Sign up for Agency Leads and choose a plan
The first thing you have to do is register at Agency-Leads.com and create your account. It's fast and easy; you just have to enter your name, your email and a password. Once you register, you will be able to access your control panel, where you will be able to see and manage your leads, your campaigns and your results.
As a member, Agency Leads offers you different plans according to your needs and your budget. You can choose between the monthly plan, 3 months, 6 months or 12 months. Each plan offers you:
Live prospects updated daily

Hiring manager contact information

Staffing industry leads

New lead email notifications

Live chat support

Click here for more info: https://agency-leads.com/pricing
Schedule a demo with no commitment
Schedule an Agency Leads  demo for an in-depth presentation of how Agency Leads works. An Agency Leads specialist will show you how Agency Leads enables you to access more than 100,000 verified leads with companies that use recruitment agencies for their hiring, along with the details of the job lead, the hiring company and the hiring manager. The demo highlights the benefits of using Agency Leads, such as saving time and money on lead research, increasing the chances of getting a positive response and meeting with hiring managers, and measuring results and performance of your sales outreach efforts.
Using Open Web Leads for Web Scraping
Another tool we offer is Open Web Leads. OWS is a web scraping-based lead generation tool that allows recruiters and recruiting agencies to access over a million job offers in one place. This powerful scraper tracks and analyzes the top job portals on a daily basis. We bring the best job leads into a single, simple and easy-to-use interface.
Open Web Leads provides job, company, and hiring manager details. Its powerful search function then enables you to find, filter, save, and export leads. With Open Web Leads you save time and money on lead research, making it easy to contact companies looking for candidates for their job openings.
CazVid, an innovative and effective solution for hiring managers
CazVid is a free application to post and view job offers and resumes in video format. With CazVid, hiring managers can describe and showcase the job role with a short 30-second video, attracting the most suitable candidates for their company. Candidates create 30-second resume videos, highlighting their skills and interests, and showcasing their personality, attitude and charisma. CazVid allows you to search, filter and save job videos and resumes by categories and location. You can contact users directly in the application. It is an innovative and effective solution for hiring managers who are looking for human talent in a fast, simple, effective and efficient way.
Get Leads Today
As you can see, using Agency Leads enables effective, well-differentiated and unique solutions for your recruitment agency. And above all, we provide valuable tools to increase and close contracts with hiring managers. We provide leads from both the private and public sectors for multiple job types. Agency Leads' multiple solutions offer you, not only the right leads, but an increase in opportunities. More importantly  you can get an increase sales by having a lead database updated daily, specialized live support, a team of lead researchers, all combined with cutting-edge technology. Contact us now to get leads today!
Want a free trial of Agency Leads?
Don't take our word for it, schedule a demo and check out Agency Leads for yourself! Don't want to wait? Subscribe now and start getting leads today!