Using Tech to Identify Top Quality Leads
Using Data-Driven Technology to Identify Top Quality Leads in the Staffing Industry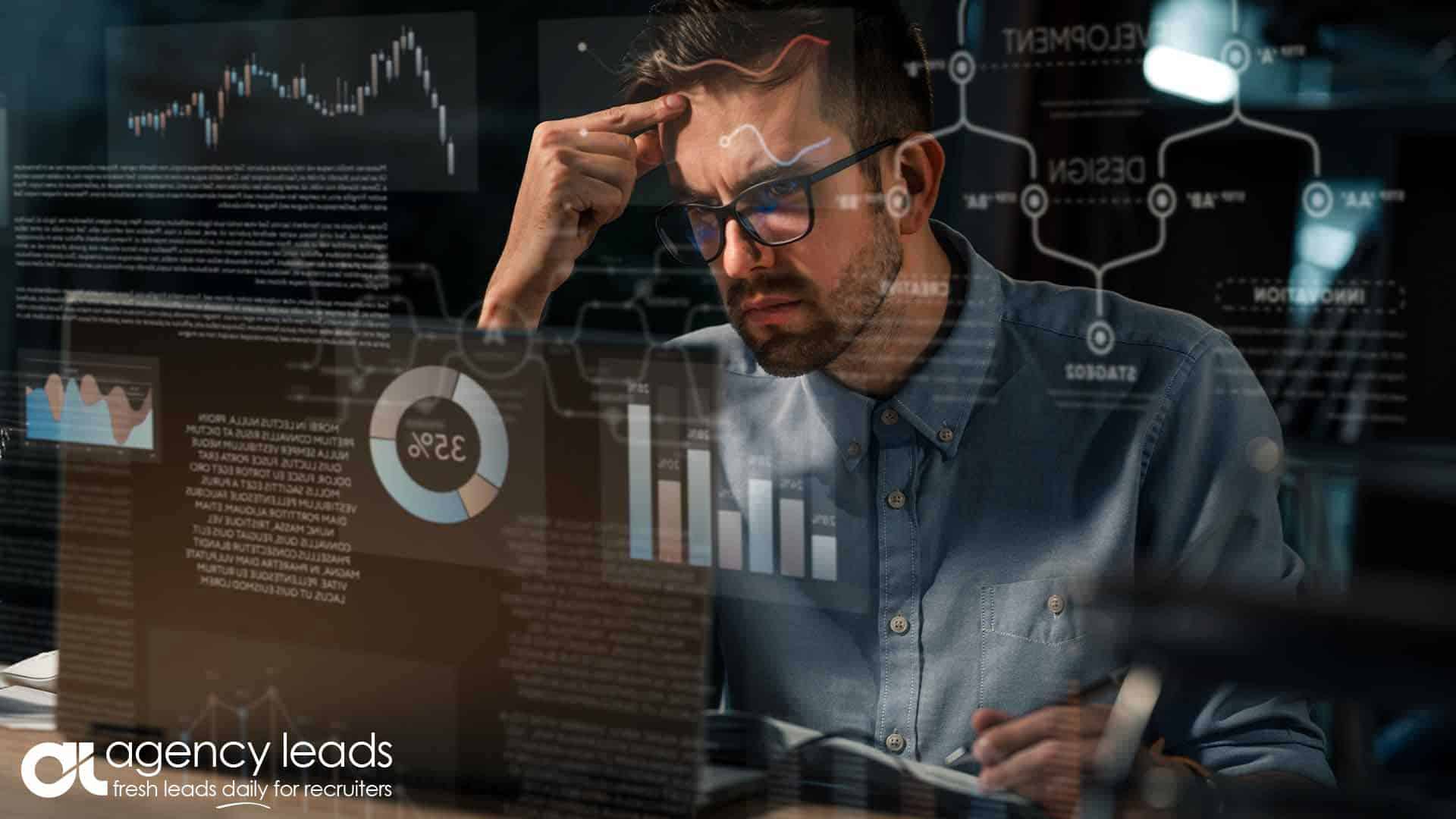 With the overwhelming majority of staffing and recruitment agencies predicting an increase in revenue in 2023, it's more critical than ever before for their sourcers and sales departments to have effective ways to generate top quality leads. Recent advancements have made it possible for tech to identify top quality leads yet many agencies still rely on outdated, time-consuming, and expensive methods that yield a low ROI. Cold calling and harvesting leads from aggregate job boards and LinkedIn are not only inefficient; they also don't provide information about bids from competing agencies, nor do they guarantee the quality of leads. Fortunately, new data-driven technology such as the Agency Leads Lead Generation Tool can be leveraged to source information about companies' talent needs, as well as insights about staffing firms' competitors. Sales teams can also use the app to determine whether a company is likely to be a good prospect or not. Ultimately, when staffing and recruitment agencies adopt a data-driven mindset and base their proposals in fact, they can reduce overhead, streamline their sourcing processes, and determine which leads are high quality and therefore worth pursuing.
INTRODUCTION
Globally, staffing and recruitment firms expect this year to be a highly profitable year. According to a recent study by Bullhorn, 67% percent of recruitment professionals expect their revenue to increase in 2023. 17 percent predict a revenue increase of more than 25 percent. Moreover, approximately 10 percent believe they will derive more than half of their revenue from new business.
This positive outlook is in no small part due to employers' growing use of contingent workers and managed workforce solutions. These services provide companies with the talent they need without locking them into expensive, long-term employment obligations. However, staffing and recruitment agencies can only profit from this growing demand if their sales processes are quick and effective.
Unfortunately, too many agencies still make use of ineffective, costly lead sourcing methods. But in today's global marketplace where companies need solutions that allow them to respond at the speed of business, these methods are no longer sufficient.
WHY TRADITIONAL SOURCING METHODS ARE BECOMING OBSOLETE
In the staffing industry, sourcers and sales teams have traditionally used a combination of techniques to find leads. Cold calling is one of the oldest and most commonly practiced methods, despite its notoriously low ROI. But with the advent of email in the mid-nineties and the more recent trend of Millennials preferring direct messaging over phone calls, it has become progressively unpopular and ineffective.
Additionally, aggregate job boards generally contain a lot of information about openings at specific companies. However, as every recruiter knows, not all these jobs are actually vacant.
Some companies place a job ad despite the fact that they're interviewing internally for the position. Others post ads simply to see what type of talent is available and looking.
In recent years, LinkedIn has become the preferred resource for most staffing sourcers. This is in large part thanks to its unrivaled popularity and combination of features. Almost 60 percent of organizations have a LinkedIn company page. When a company posts a job listing, it's a relatively simple process for sourcers to research the organization, find out what other active openings it has, and determine whom to contact with a proposal.
Nevertheless, all three of these methods have substantial drawbacks. Because they require a significant amount of research and follow-up activity, they're time consuming and labor-intensive. This makes them expensive and drives up staffing and recruitment agencies' overheads.
For example, during the cold calling process, the sourcer starts with the broadest possible list of prospects, usually from a brokered list. He or she narrows this list down over time by weeding out companies that are closed or inactive, don't want to be called, or don't need staffing services. What remains are the organizations that might be interested—and then it usually takes multiple calls or emails to get the point person on the phone. If that happens, then the sourcer still has to determine what this prospect's talent needs are and whether the agency has the capability to meet them.
Sourcing leads from aggregate job boards gives recruiters a slight advantage over cold calling in that they can perform searches for the types of job openings they can fill. That means the sourcer has a certain amount of information about the prospect's talent needs—and already knows the staffing firm can meet them. Yet he or she could still be trying to reach the HR professional or hiring manager in charge while the given position has already been filled.
Because LinkedIn makes it easier to link job openings to company data, it's faster and easier for sourcers to reach the appropriate point person at the company. Nevertheless, it's still a labor-intensive process.
There are two more significant disadvantages of these methods. First, it's impossible for sourcers to know if a prospect has received a better offer from a competing staffing firm—and if so, what that offer entailed. And second, it's extremely challenging to determine the quality of a lead. For example, a sourcer could find a company that's in the market for a recruitment process outsourcing (RPO) solution for IT personnel. In the ideal situation, the prospect immediately signs the RPO contract, approves all the candidates the staffing firm puts forward, and pays its bills on time. However, in the worst-case scenario, the prospect might demand drawn-out contract negotiations, reject multiple candidates without communicating why, and fail to pay its bills on time (or even at all).
Clearly, staffing and recruitment firms could benefit from lead sourcing techniques that are more efficient and yield better quality leads.
The Game Changer: Data-Driven Technology
Recent technological advancements have made it possible to collect, store, and analyze massive amounts of data. Using cloud computing and hyper connectivity, developers can create apps that deliver customized data feeds to a user's desktop computer, laptop, tablet, or smartphone.
Interestingly, most applications in the staffing and recruitment industry focus on sourcing talent, streamlining the recruitment process, and analyzing performance. Not much attention has been paid to developing applications that streamline the single most time-consuming process in staffing and recruitment operations: B2B client lead sourcing.
Recently however, a group of top sales professionals from the staffing industry developed Agency Leads, a highly effective app for generating quality leads for IT staffing and recruitment firms. It collects job listing data from around the Internet and uses analytics to provide sales teams with customized results including:
REAL-TIME LEADS
Real-time leads about which companies are looking for tech talent, what kind of role(s) they're looking to fill, for how long, and what remuneration they're offering. This enables sales teams to quickly assess a prospect's needs and determine whether their agency can provide the right solution.
UP-TO-DATE
Up-to-date contact information for the point person at each company. This eliminates "fishing expeditions" to try and find out who's in charge of hiring and how best to reach him or her.
DATA DRIVEN
Data about whether companies have worked with staffing agencies before, and if so, when and for what kind of talent. This essentially provides sales teams with insights into their competitors' playbooks, providing information about their processes, pricing,
and more.
BETTER OUTCOMES BASED ON OBJECTIVE, REAL-TIME DATA
With all this data, sales teams can approach companies with proposals that are not only tailored to their specific needs, but that also offer something more or better than the competition. Naturally, sales professionals that have even more information about a company can add their own insights to fine-tune their proposals even further.
Note that the data can also be used to determine whether a company is likely to be a good lead or not. For example, if it has multiple listings for the same job opening in a short period of time, it could indicate that it burns through people very quickly. Similarly, a company that's worked with two or three staffing agencies in as many years might be an overly demanding client with unrealistic expectations (assuming the other staffing agencies are reputable). On the other hand, if a company worked with a competing agency for multiple years, that likely indicates it's a good client—and one worth pursuing with a proposal that offers more than its current agency does.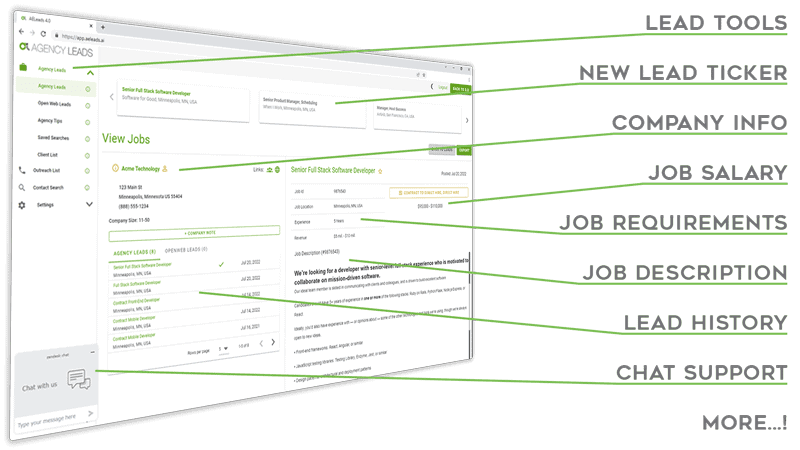 CONCLUSION
In conclusion, using data-driven tools like the Agency Leads app, staffing firms can avoid low- quality leads that waste time and resources. Additionally, because they're searching for leads using accurate, real-time data, they can find top-quality prospects and create customized, winning proposals in a fraction of the time it would take using traditional methods. And in the long run,
this not only brings in more revenue; it also reduces operational costs—which combined lead to higher profits.
Want a free trial of Agency Leads?
Don't take our word for it, schedule a demo and check out Agency Leads for yourself! Don't want to wait? Subscribe now and start getting leads today!