How to Get Clients for a Staffing Agency in 7 Steps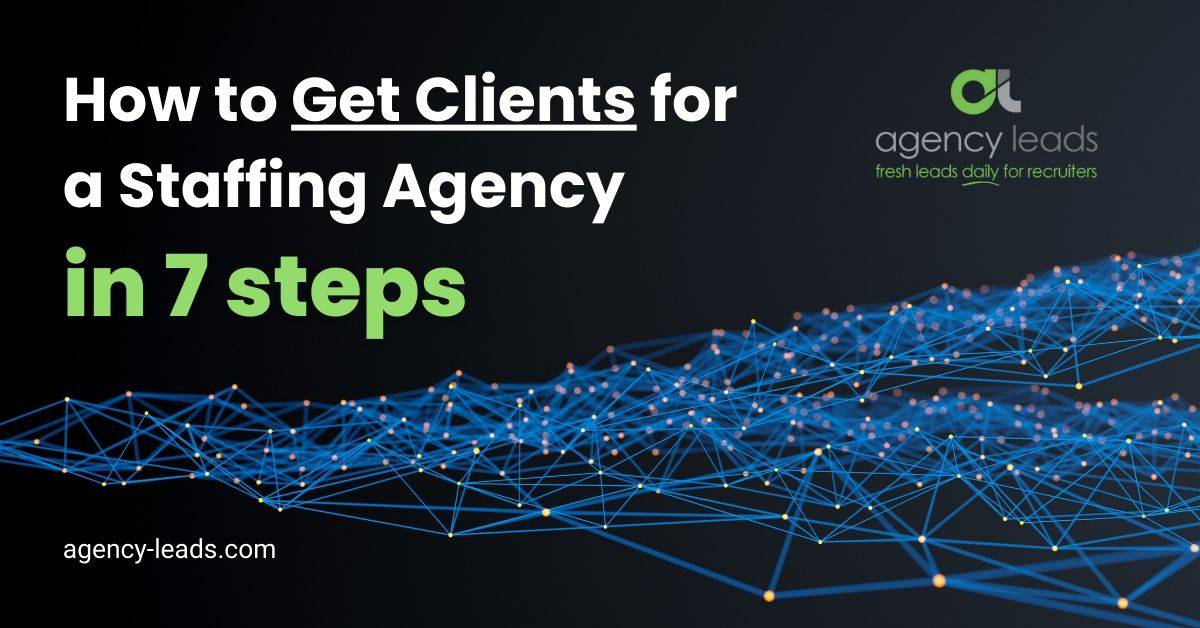 How to Get Clients for a Staffing Agency in 7 Steps
Starting a staffing agency is exciting, but it's also challenging. One of the biggest challenges is finding new clients. It can be tough to compete with established agencies, and newcomers often struggle to get started.
But there are ways to make it easier. Here we are going to show you 7 steps to get clients for your staffing agency.
Let's dive into the nitty-gritty of expediting your agency's growth and boosting your client base.
How to Get Clients for your Staffing Agency in Seven Steps
From marketing experts in the staffing industry, we have developed this seven-step process to find clients for your staffing company.
Define the target client for your staffing firm

Search for your potential customers

Analyze the opportunities

Reach out and attract your target leads

Follow-up and nurture your sales leads

Close the deal

Leverage the relationships with your clients
1. Define the target client for your staffing firm
Determine precisely the type of clients you're seeking. Remain focused: instead of pursuing every potential prospect that comes your way, concentrate on one or two sectors of the job market. When your mission is clear, the likelihood of one opportunity leading to another increases!
To accomplish this, there are a few queries to address. To start:
1.1 What sectors are you supplying staff for?
Is it Healthcare? IT? Engineering? Begin by defining the broader area you are currently in, or aim to be in. Some of the most common industries are:
Healthcare: This includes hospitals, clinics, nursing homes, and other medical facilities.

Information Technology: This encompasses a broad range of roles such as software developers, network administrators, and data analysts.

Engineering: This includes mechanical, civil, electrical, and chemical engineering roles.

Finance and Accounting: These positions often require specialized knowledge and training.

Education: Schools and educational institutions often need temporary or permanent teachers, tutors, and administrative staff.

Manufacturing: This industry requires a wide range of roles, from assembly line workers to quality control specialists.

Construction: This industry often has a high demand for both skilled and unskilled labor.

Retail: Stores often need temporary staff during peak shopping seasons.

Hospitality: Hotels, restaurants, and event venues frequently require short-term staffing solutions.

Administrative and Office Support: Many businesses need temporary secretarial or administrative support from time to time.
1.2 Which roles you want to fill within those industries.
After determining your target industry or industries, identify the roles you aim to fill within those sectors. Are you looking for equipment operators? Sales representatives? Software developers? Every industry offers a wide array of positions that need staffing. Determine which roles you have successfully filled in the past and which ones you aim to fill in the future.
1.3 Utilizing Existing Clients to Guide Your client's definition
After you have identified the type of opportunities you're seeking, it's time to examine your current clients. Consider their size, their geographical location, the industries they operate in, and the roles they require. Answering these questions will assist in pinpointing the type of client you're targeting. Following an assessment of the companies you're currently staffing, compile a list of potential companies you aspire to convert into clients.
2. Search for your potential customers
Now you are ready to start searching focused on defined target clients.
2.1 Utilize Job boards data
Understanding your target industry, clients, and market is crucial. However, the practical implementation of this understanding requires strategic measures.
Job postings serve as an effective tool providing the necessary information. Consider these postings as a peek into the talent sought by prospective clients. They offer insights into the desired roles companies need to fill, the expected skills for these roles, and the compensation they're willing to provide.
Furthermore, job postings shed light on the broader aspects of the market you're operating in. They act as a barometer for the job market, offering insights into wages, supply, and demand for all the roles you intend to staff.
Some places to look up open positions are:
LinkedIn, Jobsite, Indeed, Glassdoor, Monster, and many more. These platforms not only have many job opportunities, but also provide valuable information about industry trends, skills in demand, and salary benchmarks.
2.2 Use Agency Leads to get targeted job postings
Agency Leads is the simplest and fastest way to find job postings from companies who are seeking to hire through recruitment agencies. It allows filtering job postings by keywords, location, job title, hiring company, date, company size, job category, and more.
Agency leads help your recruitment company to look up opportunities that align perfectly with the target audience defined in the first point.
2.3 Leverage Your Network
Don't hesitate to leverage your network! Whether they're past clients, former colleagues, university buddies, LinkedIn connections, or individuals you've met at work functions, these contacts can be an invaluable resource for securing new clients for your business.
Not only will they serve as your direct link, but the likelihood of their engagement is greater due to the existing credibility between you and them– regardless of how remote the connection may be.
Don't hesitate to reach out. You never know, they might have something to offer that could be of interest to your company. After all, business is all about negotiation and mutually benefiting from each other's resources.
2.4 Participating in networking events and job fairs
Another great way of getting new leads can come from networking events and job fairs. Find networking events in your city, attend them, and share your contact information with other participants to explore potential opportunities with their companies.
Job fairs can be even better because there you can find the demand and the offer joined. Weather you participate as an exhibitor or participant, in both cases you can find not only companies looking to hire but also candidates.
3. Analyze the opportunities
Now that you know who your target is and also, what they are offering, it is time to analyze those job listings and determine which of them are good opportunities for you.
3.1 Understand the job demand and offer
Here you want to find roles in your target that have low demand and high offer. for example, let's say you find a company that is needing IT technicians in Mesa, Arizona, is it a good opportunity or not? To evaluate this, we need to check how many companies are requiring these roles and how many people are willing to work in it.
To get a rough number you can use Indeed or agency leads. Over there, you can go to the company's side and look for resumes to know how many people have titled their resumes with IT technicians and go to the worker's side and count how many companies are requiring these roles.
Let's say you find 1,000 resumes and 100 companies needing IT technicians. If we divide 1,000 by 100 it will give us 10, which means for each job posting there are 100 candidates therefore there is a high supply, and it represents a good opportunity.
3.2 Median market wage
Another key factor in determining if a job posting is a good opportunity or not has to do with the wage the job opening is offering.
You can use websites such as salary.com to find the median salary for the required role in the job posting. then, compare it to the wage offered in the job posting.
If the required job role has a high supply and the wage is higher than the average, it means it can be a great opportunity to work with.
4. Attract clients and get appointments
Now it's time to let's get down to business and get in touch with the hiring managers. This is the harder part but with practice and persistence you can achieve outstanding results. The main goal here is setting up a virtual meeting, because people usually don't have time to hear or read anything, that's why virtual meetings have become the preferred method for selling nowadays.
Therefore, make sure to develop a compelling pitch to arrange the meeting and another one to make the presentation.
Down below, we will cover the most effective methods to reach and attract your audience.
4.1 Connect on LinkedIn
LinkedIn is the top professional social network, and you can easily reach out to important individuals by sending a connection request and starting a conversation.
There are automated applications that allow you to send dozens of LinkedIn connections daily. The more people you invite, the more connections you'll have and therefore more possibilities to sell.
4.2 Cold calling
This is a tough task, but a timeless classic that is always going to help to grow any staffing agency or any company.
Make sure to develop the right script with important questions that help you to understand your lead's needs like what are the roles and skills required, how many positions they need and what skills they are searching.
Sound energetic and enthusiastic, that's something that impacts positively on your listeners and helps you to grab their attention.
Finally, use a CRM to better manage and keep track of your calls, LinkedIn connections, and emails. This will save you time and boost your productivity.
4.3 Paid ads
This is my favorite method to attract new leads, because it's the fastest and most powerful way to reach out dozens, hundreds or even thousands of leads who are looking for what you are offering or who are likely to be needing staffing services.
The downside of paid ads is the cost, because it can require a monthly budget that can go over 1,000 dollars.
Some platforms you can use are:
This is the most powerful tool when making ads, because it allows you to target leads near you and who are looking for staffing services at a lower cost compared to other traditional methods.
If you have a low budget, and you are a small staffing firm, the strategy is targeting leads near to you in radio between 20 and 40 miles around your office location. This strategy will help you to compete against giant firms but without spending millions of dollars.
Some of the keywords you can use to target the right people are:
staffing agencies near me

job agencies near me

employment agency near me

recruitment agencies near me

staffing companies near me
Don't forget to combine those keywords with the audience called "Staffing & Recruitment Services" This audience is formed by people who influence decisions to contract with staffing or recruitment partners.
Otherwise, you can attract people who are looking for a job instead of companies looking for staffing services.
4.3.2 Microsoft Ads
The same as Google Ads, Microsoft ads is a great way of getting traffic of people who are looking for staffing services on Bing. This is especially important nowadays because Bing has incorporated ChatGpt to its search engine which has brought many users from Google to Bing.
4.3.3 LinkedIn Ads
Another great way of having a massive outreach to the likely people to become a client. However, watch out for this method and make a constant followup because it can quickly burn your money with lower results.
On LinkedIn ads target people whose positions are in human resources or talent acquisition or whose functions are related to recruitment.
4.4 Send Out Cold Emails
This is another old-classic strategy that is still working. If you make a combined effort using the previous tools and techniques, cold emails will work well as many statistics support it, and because, as the classical marketing theory says, a consumer takes action after several points  of contact.
It means, if someone has already seen you requesting a connection on LinkedIn, has seen you in an ad and has received a call from you, is more likely to open and read your emails and is more willing to take action after that email.
That's why you should make different strategies to touch your potential clients in different moments and places.
5. Follow up and nurture your sales leads
Getting leads information and getting in touch with them is a huge effort in time and money but is not enough, then you need to follow up because, usually the leads don't take action immediately they take their time for different reasons and a follow-up is the key to get the desired results.
To make the right follow-up is mandatory to organize your lead's information and to achieve it a CRM is a must-have. In a CRM you can put when was the last call and when to repeat it or just to not call the same bad leads. If you don't want to spend money on this, there are some decent free CRMs; the most popular is Hubspot.
This follow-up can be by calling or emailing. Sending informative emails to people who have signed up for your lead magnet after directing traffic to a landing page will give you an advantage over your competitors.
6. Close the deal
Closing a deal requires a combination of good strategy and effective communication. Here are some recommendations:
Understand their staffing needs: Ideally, by the time you're closing a deal, you should have a deep understanding of the hiring needs and how your service or product can fulfill that need. Make sure you express this understanding in your communication with them.

Communicate value: Make sure your lead understands the value of your product or service. This involves clearly articulating what sets your offer apart from competitors and how it can solve the lead's problem or meet their need.

Build a relationship: People prefer to do business with people they like and trust. Build a strong relationship with your lead by being personable, professional, and reliable.

Overcome objections: Be prepared to address any concerns or objections your lead may have. This might involve explaining your pricing structure, providing details about your product or service, or offering testimonials from satisfied customers.

Create a sense of urgency: If appropriate, give your lead a reason to close the deal sooner rather than later. This could be a limited-time discount, an impending price increase, or a reminder of how your product or service will immediately benefit them.

Ask for the sale: Don't be afraid to directly ask for the close. You might say something like, "Are you ready to move forward?" or "Can I send you the contract to sign?"

Follow up: If your lead isn't ready to close immediately, make sure you follow up with them. This could be a phone call, an email, or another form of communication to remind them of your offer and keep your product or service at the forefront of their mind.
Remember, every lead and every sale is unique. What works for one person might not work for another, so it's important to be adaptable in your approach.
7. Leverage the relationship with your clients
After establishing a relationship with your existing clients, they can provide new opportunities by either having new role requirements or referring others to you.
One of the most powerful marketing is word-of-mouth recommendations. There is a statistic that says that 78% of people rave about their favorite recent experiences with people they know at least once per week.
With that statistic in mind, having satisfied customers is key for asking for referrals or reviews.
Conclusion
You can successfully acquire new clients for your staffing agency by implementing a well-organized approach that involves generating leads, diligently following up with them, and making the most of your existing client base.
One of the most powerful tools that can help you accomplish many of the previous mentioned tasks and become a successful staffing agency is Agency Leads. Schedule a demo here.