How Staffing Agencies Can Harness LinkedIn for Client Acquisition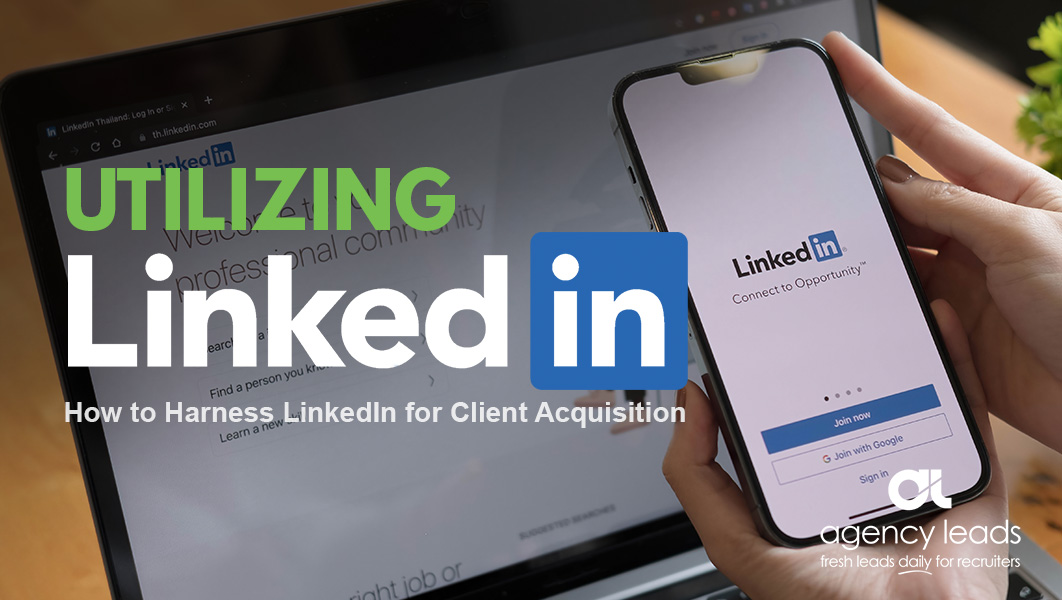 In today's competitive business landscape, recruiters and staffing agencies are constantly seeking innovative ways to expand their client base and forge valuable partnerships. One such powerful tool at their disposal is LinkedIn – the world's premier professional networking platform. Leveraging LinkedIn's extensive reach and features, recruiters and staffing agencies can strategically tap into a vast pool of potential hiring company clients. In this article, we delve into actionable strategies on how recruiters can optimize LinkedIn to find new clients and propel their agency's growth.
Create a Compelling LinkedIn Profile: The Foundation of Success
Before reaching out to potential clients, recruiters must ensure that their own LinkedIn profiles are professional and engaging. A well-crafted profile showcases expertise, experience, and credibility. Use a high-quality headshot, write a captivating headline, and provide a detailed summary that highlights your agency's value proposition and services.
Identify and Connect with Decision-Makers: Navigating the LinkedIn Network
LinkedIn's advanced search capabilities allow recruiters to identify and connect with key decision-makers within potential hiring companies. Utilize filters such as industry, location, and job title to narrow down your search. Aim to connect with HR managers, talent acquisition leads, and other relevant professionals.
Personalized Connection Requests: Making a Meaningful First Impression
When sending connection requests, avoid generic messages. Craft personalized and succinct messages that highlight your agency's expertise and express genuine interest in connecting. A tailored approach demonstrates professionalism and increases the likelihood of acceptance.
Engage with Thoughtful Content: Positioning as a Thought Leader
Position yourself and your agency as industry thought leaders by sharing insightful content on your LinkedIn feed. Post relevant articles, industry trends, and success stories that showcase your understanding of the recruitment landscape. Engaging content fosters trust and piques the interest of potential clients.
Join Relevant LinkedIn Groups: Tapping into Niche Communities
LinkedIn groups provide an excellent platform to engage with professionals in specific industries or sectors. Participate in discussions, offer valuable insights, and establish yourself as a knowledgeable resource. This proactive engagement can attract the attention of potential clients seeking expertise.
Utilize LinkedIn InMail: Direct and Personalized Outreach
LinkedIn's InMail feature enables direct messaging to users outside your network. Craft compelling InMail messages that outline your agency's capabilities, showcase past successes, and express genuine interest in collaborating. A personalized and respectful approach can spark meaningful conversations.
Showcase Client Testimonials: Building Trust Through Social Proof
Highlighting client testimonials and success stories on your LinkedIn profile and company page adds a layer of authenticity and credibility. Positive feedback from previous clients can instill trust and confidence in potential hiring company clients.
Regularly Update Your Profile and Activities: Staying Relevant
Consistently update your LinkedIn profile with recent achievements, new partnerships, and industry accolades. Share updates about successful placements, partnerships, and industry insights. Regular activity keeps your profile current and demonstrates your agency's ongoing engagement and relevance.
Utilize LinkedIn Analytics: Monitoring and Adjusting Strategies
LinkedIn provides valuable analytics to track the performance of your profile and posts. Analyze metrics such as engagement, views, and connection growth. Adjust your strategies based on these insights to refine your approach and enhance your results.
Leverage LinkedIn Advertising: Amplify Your Reach
Consider utilizing LinkedIn's advertising options to amplify your agency's reach. Sponsored content, sponsored InMail, and display ads allow you to target specific demographics and industries, ensuring your message reaches the right audience.
LinkedIn's dynamic platform presents a wealth of opportunities for recruiters and staffing agencies to connect with potential hiring company clients. By strategically optimizing your LinkedIn profile, engaging with targeted content, and fostering meaningful connections, you can position your agency as a trusted partner in the recruitment process. Implementing these strategies unlocks the full potential of LinkedIn, propelling your agency's growth and solidifying your position in the competitive world of recruitment.